Introduction
Selling a home is a rare event for most people. There can be a variety of reasons why people choose to sell their home, but they generally all have the same end goal in mind - - sell for the highest price possible in the shortest amount of time. This sounds fairly easy and straightforward, but the process necessary to achieve this goal isn't as obvious, even to the most seasoned real estate agents.
In order to sell a home for top dollar in the shortest amount of time, it's necessary to follow a detailed marketing plan that effectively broadcasts the home in front of as many people as possible in order to drive buyers to an open house.
How This Book Came To Be
Why someone does something is more important that what they do. And it's how this book came to be. Because of the huge crowds at my open houses and the high prices my listing have sold for, many people have asked me to share how I sell houses… they wanted to know what process I put in place. And lucky for them (and you) I haven't been shy about sharing my strategy, and tactics. After explaining the same process to several people, with all the details, and all the answers to so many important "why" questions, I decided that it was time to put it all down on paper. It's then that I realized, there's really no guidance on what to do to sell a home! Sure, there's advice out there, but there's not many marketing plans that take you from A to Z. And just as important, why do each of these steps help in selling your home for the most money in the shortest time frame. You're about to read my step by step process on exactly house to sell your house quickly for the highest price (for free). If you're thinking of selling your house on your own, think of this as a "step by step" guide. And if you're looking at this to educate yourself before listing your house with an agent, this should give you some insight and help guide your decision on who to use as your next agent!
We will come back to the "why" on everything we cover here. We spend so much time on the "why" because it's motivation, it's psychology, and it's the most important reason for this book. Why do we do what we do and how does that sell houses fast, and for the most money.
Go ahead and ask 10 real estate agents HOW they're going to market your property and actually sell it to ensure you get the highest price and the quickest sale, and you'll find that, in general, you'll get the same ole….

It's all good stuff and necessary in today's market. Many agents are really really good at what they do. And many agents just slap your house on the MLS and wait for a buyer to waltz on in and hope you get a good offer for your house.
You want the most money for your house, right? And you want it to sell in a timeline that works for you right? But how are you going to get there? I mean, what's the path to getting there, because everything that's been stated above is still what you would call the "hope and pray" method.
If you went to google right now and searched for "how to get the most money for my house", or "how to sell my house fast", it all comes up with the same dribble….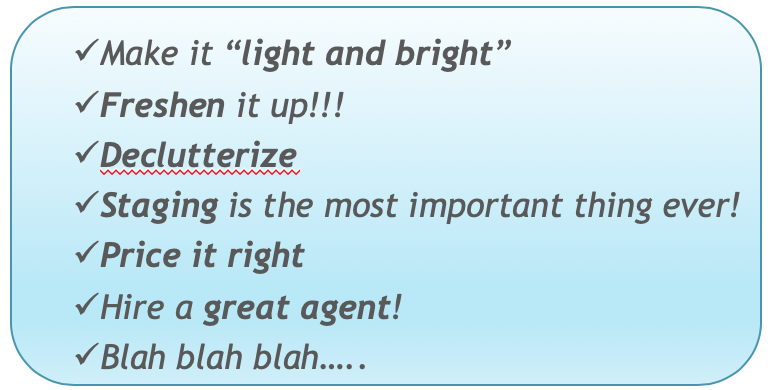 And you know what? They're right! There's lots of awesome ways to make your house look it's best and be the most appealing to potential buyers, so please follow the advice! But surely, there's more, right?
Let's talk about a real marketing plan, let's get into why you're reading this!
The entire premise of this marketing plan is to create "scarcity". Why? Because when buyers compete for your home, you stand the best chance of making the most money, and selling your home in the fastest manner.
The purpose on how everything is done, and how it is timed is to get as many people to view your house in a short period of time. When there are 2, 3, 4 or more families looking at your house at the same time, everyone gets the same feeling. "Wow, this house is gonna sell!" And if people are wanting to make an offer, they know when the house is full of people, others are going to make offers as well. Create a buzz in the house and the neighborhood, and let buyers compete. And we want more than half of the activity over the weekend to happen during the Open House.
Let's take a look at the broad view of this plan first, and then we'll dig into the details and each step necessary.
Over the next 15 days we're going to be strategically attracting potential buyers to your house. Every step has a purpose. Every step is part of the big picture, and its' ALL geared towards getting you the best price for your house, period. We want your house to be seen by tens of thousands of interested people. We then want thousands of actual potential buyers to be aware of it, which will turn into 100's of people viewing the house, which, if all done correctly, should turn into competition on your house!
So how do we get there? How can we create this exposure, and create an environment where your house is full of buyers, all at the same time? Here's the 1,000 foot view:

NOTE ABOUT DECLUTTERING AND PRICING
Decluttering
There are numerous home selling guides with best practices out there to prep your home and, and some are so good that there's no need to try and reinvent the wheel. There's a link in the notes at the end of this book with a great resource for that.
Pricing
Beyond cleaning up and decluttering your home to make it "shine", pricing your home correctly is so important to a great marketing plan that it CAN NOT be done incorrectly. If this step is done incorrectly and your home is overpriced, you will lose money. Period. This is always the toughest part to portray to clients. What you think your home should sell for, and what it actually sells for are very rarely the same number. There is a science to pricing your home, and it's so important that I've met with numerous appraisers on pricing homes. In a nutshell, price it right, sell for more, (and there is no such thing as pricing it too low as long as you have a lot of exposure), price it too high and earn less. We will come back to why this is so important later when it comes to an appraisal and why this is critical in this process.
For more information on your homes value, visit www.reframingrealestate.com/evaluation
Let's get into the Marketing Blitz, the reason why you're reading this!
DAY 1: Monday
Home is show-ready
(If house is being staged, stagers come today)
It's simple. The prettier your home, the better chance it has of selling.
This book about is selling your home. It's all geared around marketing, and marketing markets the asset. If your asset looks good, we can get good results. If your asset does not look good, we won't get good results. So that's why we only have one item on the checklist for today. Some of you might look at it and say, "Wow, that's so simple. That's so short. Why am I reading this book?" You may not understand the importance of this, if your home is not show-ready and we go forward and market it, we're going to have a snowball effect through the next 14 days leading up to the open house.
If your home looks great, it's going to be a good snowball effect. People will walk in and be impressed. They will envision themselves and their family living there, their kids and dogs running around and growing up there, relaxing on the couch at night while they watch Netflix. If your home is not show-ready, the impression is, "Oh my god, this place is a mess. Why haven't they cleaned this in two years?"
Now, here's the thing; We've talked about the importance of making your home show ready, but we're not going to go into detail and tell you every single thing you need to do here, because it's a dead horse that's been beaten over a thousands of times. If you Google "how to sell your home," everyone says you have to make it show-ready. And that is definitely a major part of it. It's the first domino, and it's a given. This book focuses on all the other dominoes that come after this first step that involve marketing and how to get more eyeballs on your house, which hopefully lead to multiple offers and higher price.
So, reach out and talk with us if you need tips on how to make your home show-ready or simply Google it, and you'll have an infinite amount of checklists that tell you what to do.
Let's talk about staging for a moment. There's a reason why a "show" home is staged. Builders put millions of dollars into building homes, and they stage the model homes because THEY GET MORE MONEY WHEN THEY STAGE!
Walking into a completely vacant house is odd at best. It's hard to tell how big or small the rooms are, and some people have a real challenge trying to envision themselves living there when the home is empty. Staging a home makes it feel like a home, and that's where people want to live, not a shell of a house.
What I've also found is that when a home is staged people tend to look past the minor details of your house that are not perfect. No home is perfect, but when there's nothing to do but examine the paint job, look at the baseboards, and open and close doors, people find things wrong. Staging helps eliminate that, and ultimately, staged homes pull in higher dollars.
The bottom line is your home should be show-ready on DAY 1 and prepped for photos to make it looks it's very best! The decluttering should already be done, and the stagers should be scheduled for today if the decision was made to stage the home.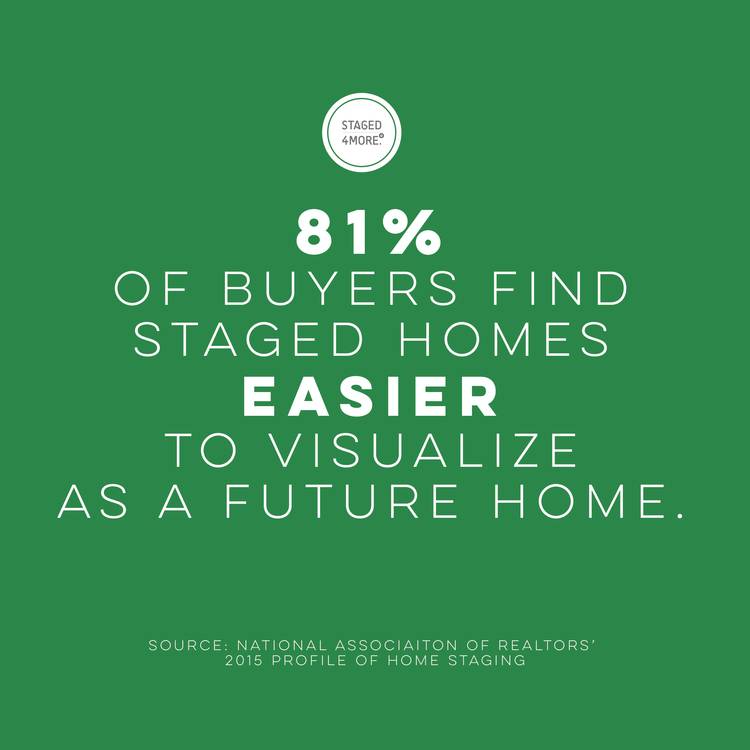 DAY 2: Tuesday
Place for sale sign
Take professional photos
This is where it gets fun, because we get to talk about marketing strategy. The next step is to place the "For Sale" sign in the front yard as a "coming soon" house. The sale sign is the first step for raising interest for your house locally from neighbors and their visitors.
It's simple. People who live in the neighborhood have friends and family that want to live in the neighborhood. There's a lot of Baby Boomers that are getting to the age of needing assistance from their kids. We've had a number of clients in the past year or two either living with their parents or needing to buy a house that will accommodate their extended family. We have also seen parents who are downsizing and want to move closer to their kids, so they can all help each other.
A "For Sale" sign with a "coming soon" beneath it is simple, but you'd be amazed how many phone calls we get from neighbors saying, "Hey, what are you going to be pricing that house at?" Even though a lot of people spend their time marketing online, which is definitely a place you want to be, traditional local tactics still work. Nobody's eyes are everywhere at once, so you've got to be everywhere.
This is why we're calling it a "Marketing blitz," because we try to be as many places and in as many different channels as possible.
HAVE A PROFESSIONAL TAKE PHOTOS
The next step for day 2 is to get professional photos taken by a company that specializes in real estate photography. If you're selling a home for hundreds of thousands, or even millions, it's important to spend a few hundred dollars for top-notch photos. More importantly, you should also use a photographer who has a track record of real estate photography. Just because your neighbor has been a photographer and has a $5,000 camera doesn't mean they know what appeals best in the world of real estate.
In today's Facebook, and Instagram age, what do people look at? Photos! Your photos need to stand out from the other hundred photos they are looking at. A photographer that specializes in real estate knows how to make each room look great. Those small differences can be the difference between someone scrolling past the photos or engaging to look at the rest.
We use a company called Virtuance. Not only are their photos great, so is their online platform. They provide statistics, videos and data to track where views originate. The feedback and information we get from them is second to none, and of course, their end product looks great! Their backend for tracking and the ability to share these photos is really robust.
Numbers and data are important too. They tell you a lot about your marketing efforts. It's really useful and powerful to be able to track and analyze the traction you get from professional photos through the online tools provided by a company like Virtuance.
Taking photos with a cell phone is never okay. Even if you're using a discount brokerage service that charges 1% to list your $500,000 house, that's a $5,000 commission. They can afford $200 to $300 to have professional photos taken.
Sometimes agents will ask the homeowner to cover marketing costs like photos. Every company is different, but the way we see it is, we're paid to perform by selling your house. We pay for all the associated marketing costs for your house.


Here's some stats from our Photographers website about professional photos: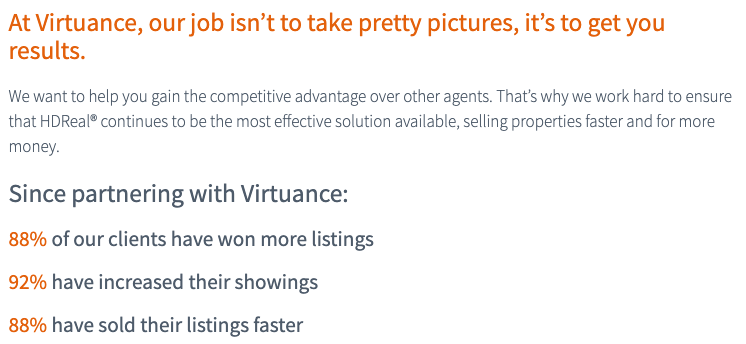 DAY 3: Wednesday
Order flyers for open house and local business distribution
Begin Phase 1 of Social Media Campaign
Geared more toward buyers (not agents)
Create and launch Facebook coming soon ads
Create and launch Instagram coming soon ads
Write Property Description
Create Virtual Tour
Create Property Specific Website For Your House
ORDER FLYERS FOR OPEN HOUSE AND LOCAL BUSINESS DISTRIBUTION
People expect to have print materials when they view your open house, so we're going to design them to make them look great! We include detailed information about your house and order 150 flyers which we pick up on Friday, the day before the open house. We get a $50 gift card to a local small business that is in the neighborhood (or as close as possible). It's a win-win. The local business is excited that we are giving away a gift card at the open house and they are more than happy to display and distribute flyers to our open house.
ORDER DOOR HANGERS
The door hangers that advertise the open house are key. They are another great marketing tool and checklist item for building awareness. We order 500 and will distribute them up on the Friday before the Open House. On this open house advertisement, we will offer a $50 gift card to a lucky winner that attends the open house to a cool local restaurant or shop. The $50 gift card will entice more people to come to the open house. Always support locally!
We love door hangers. It's an opportunity to talk about the upcoming open house. If we're walking around passing them out and someone wants to strike up a conversation, it's just another opportunity to invite somebody to the open house. Remember, neighbors know people that want to live in your neighborhood too.
Door hangers are part of the more "old school" way to approach things, but a good chunk of the traffic, 30% plus is typically going to come from neighbors and their friends and family who want to see what homes are selling for in the neighborhood. If your house has just had a lot of work done to it, some people may wonder what you've been doing. But until they get an invitation to come by to the open house, they won't have a chance.
We know a lot of neighbors are basically just being nosy neighbors. They are curious to see what your house looks like on the inside. Are they going to necessarily bring an offer? Who knows? Even if they don't, it's important to keep the bigger picture in mind. The goal of the open house is to get more people in the door. More people in the door, especially during that three-hour open house, creates a buzz. It creates a scarcity mindset where a real prospective buyer that really loves the house is likely to assume that they have competition. And competition is good for you, the seller. Buyers don't know that four of the other six groups in the open house with them are just neighbors being nosy while they're on their way to run errands for the day.
Door hangars may seem a little boring, but they are a key piece of the marketing puzzle on the backend that you may not see as the seller. However, these are all critical pieces we need to put into play to make sure that the Marketing Blitz for getting awareness out is done one hundred percent.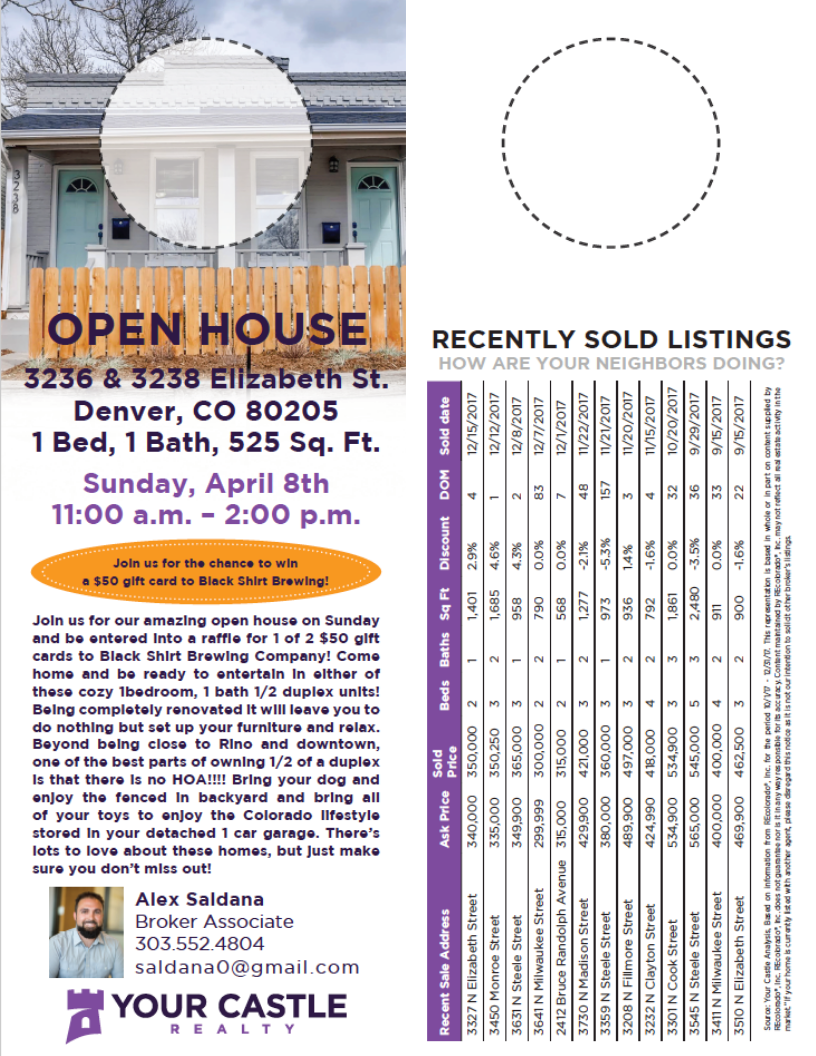 WRITE PROPERTY DESCRIPTION OF HOME
The property description is just as important as the photos. Here are the two common ways people look at homes online:
They look at the photos first and if they like what they see, they read the property description of the house. If people are looking for something in particular, they read the description first, and if they like it, then they check out the photos.
The property description is what people read when looking at properties. It's usually about a paragraph long. This is another area that we see many agents being lazy in. It drives us nuts when there is just a sentence or two or when they are not proofread!
It's our job as listing agents to sum up your entire house in just a few sentences. We have to incorporate what makes your house special, get the emotions turned on, and give the basic info that people want. That's not easy to do in a few sentences!
We spend one to three hours writing this section. Yes, that's a long time, but it's worth it. This is our chance to stand out among the other 5, 10, or 20 houses that a buyer is looking at the moment, to make them pause and either schedule a showing or come to open house. We bring our "A" game here.
CREATE VIRTUAL TOUR/OPEN HOUSE WITH PROFESSIONAL PHOTOS
We've already emphasized how important it is to use a professional real estate photography company to take your photos. Here we'd like to walk you through the virtual tour that is created from those photos and used to market your home. A virtual tour is a slideshow. When a viewer clicks on the link, she is taken to a website where a carousel of photos begins to play which leads her through the home while providing information about the home.
The image below is a tour activity report of the virtual tour. This is the backend of what we love about a company like Virtuance. The reports and the data!
What we see in the image above are the numbers that were produced in the few days leading up to one of our open houses and before the home went live on the market. These results show there were 88,000 different photos viewed, 3,200 individual tours, and 3,200 individual visitors. This means that there weren't a ton of people looking at it two or three times. Most of them were single-view visitors.
One thing we would like to highlight is that images viewed per visitor is 27.6. The total number of images is 28 in this virtual tour. That means that visitors basically sat through the entire virtual tour and viewed every single image. That's impressive! This indicates that the photos were high-quality, and the virtual tour was done the right way too.
We would also like to point out that these are not people who found the home on the MLS. If you take a look at the next image below, you can see where the visitors came from.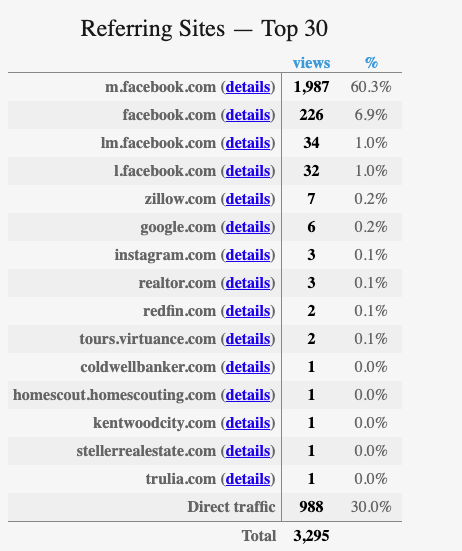 The image above shows the top referring sites of visitors who viewed the virtual tour. This report shows where someone is clicking from to go view the virtual tour.
You can see that Facebook makes up the top four categories with over 2,200 viewers clicking from Facebook alone. Percentage wise, that's right around 69% of all traffic coming from either mobile Facebook, regular Facebook or Facebook photo ads. Basically about 69% is coming from Facebook which is where we are running our ads. Coincidence? We don't think so!
If you look at the remaining referring sites, you will see that the dozen or so of them make up only about 1%, Zillow included. There were seven views that originated from Zillow. People seem to think that Zillow is one of the biggest real estate websites out there. These results indicate that that assumption is not correct. If we were old school agents and only put this virtual tour on Zillow and listed it on the MLS, we would have only had 12 tours. Social media is where it's at now. If you're not using Facebook and Instagram, you're not marketing your home properly.
In today's housing market, no one marketing channel is enough. Agents need to understand that social media and traditional marketing tools all need to be utilized: Facebook, Instagram, posting to Zillow, placing signs, doing door hangers. This 360-degree marketing blitz is the best way to ensure as many people as possible see it through as many channels as possible.
CREATE PROPERTY SPECIFIC WEBSITE FOR YOUR HOUSE
This is something that frankly, most real estate brokerage firms do. BUT, here's why we do it better; we actually have a couple of websites created for clients' homes.
One comes from a service we use that distributes your house to 100's of other websites, but the other one we create is made on our website specifically. Why? Because we can track who visits our website, AND we can do what is called "retargeting" on social media.
Retargeting starts getting into the "nitty gritty" of our advertising and works like this. Have you ever "Googled" something and then you see an ad come up in your Facebook feed for that exact product or service? Yeah, we do that too. And it's extremely powerful. Someone clicks on our ad to sell your house in Phase 1 of social media. Then a week later, we can make a more specific ad targeting people that have already viewed the house.
It's just another way that we dominate the eyeballs on your house! And it works!
BEGIN PHASE 1 OF SOCIAL MEDIA CAMPAIGNS
Geared more toward buyers (not agents)
Create and launch Facebook coming soon ads
Create and launch Instagram coming soon ads
So, this is where it gets fun. We love social media advertising.
Facebook and Instagram are both very powerful when advertised on correctly. In fact, they are so powerful that we've spent hundreds of hours educating ourselves to understand how to implement targeted advertising campaigns to maximize exposure. And doing this correctly is vastly important because of the millions of active users. We want to put your house in front of the most viable candidates.
We advertise on Facebook and Instagram in such a way that we get nearly 10x more exposure than any other avenue. There's also the benefit that when the ad is created in the right way to have people share that ad, comment on it and like it. When that happens, Facebook sees that ad as interesting to people and actually puts it in front of even more people.
For phase one, we run a "Coming soon" ad on Facebook and Instagram. This is targeted toward potential buyers using demographics and location. We're going to put this out there, and this is where the ad reach starts getting impressive. The ad will have the exposure of 5,000 plus people for about a week to a week and a half. We want this ad to say, "Hey, this house is going to be coming on the market. It's not live yet. It's not for sale yet, but you get a sneak peek at it. Come check it out." Everything about this ad is extremely important, and we've spent tens of thousands of dollars perfecting this ad to get the best results. Everything from the "copy" to the image, placement, time of day advertised and the demographics of those being advertised to is so important.
This is the first opportunity to pull out that motivated buyer. We're not saying it's going to absolutely happen before the open house, but people want privy information. If a home is on the MLS, everybody knows that everyone else has seen it. When you see something that is coming soon for sale on social media, it attracts lots of good potential buyers. They want to check it out before it even hits the market, and people get really motivated and excited when they have privy information that others do not.
At this point we also share this "Coming soon" ad on about 10 different groups on Facebook from Open House groups, the general buying and selling groups, and investment groups.
We're also going to create a Facebook open house event so people in the area of your house will be able to see on Facebook. This is another great opportunity for neighbors of your house to share it with their friends who are looking in your neighborhood.
RESULTS OF FACEBOOK AND INSTAGRAM CAMPAIGNS
We nerd out a little bit on the numbers here. We love numbers. We love results, and we're obsessed with improving them each and every time!
Here is a campaign we ran recently. Now this was a duplex, so essentially 2 houses in one, so we did a lot more advertising for this house. But, you can see multiple ads running. Why is that? Well, we were doing what is called split testing. Running 2 different ads, with a different picture, to see which performs the best. When we have those results, we double down and spend on the winning ad. Moral of this story, these ads were put in front of 78,000 people. 57,000 people viewed the ad. Ask any brokerage firm to compete with us on this, and we will gladly accept the challenge!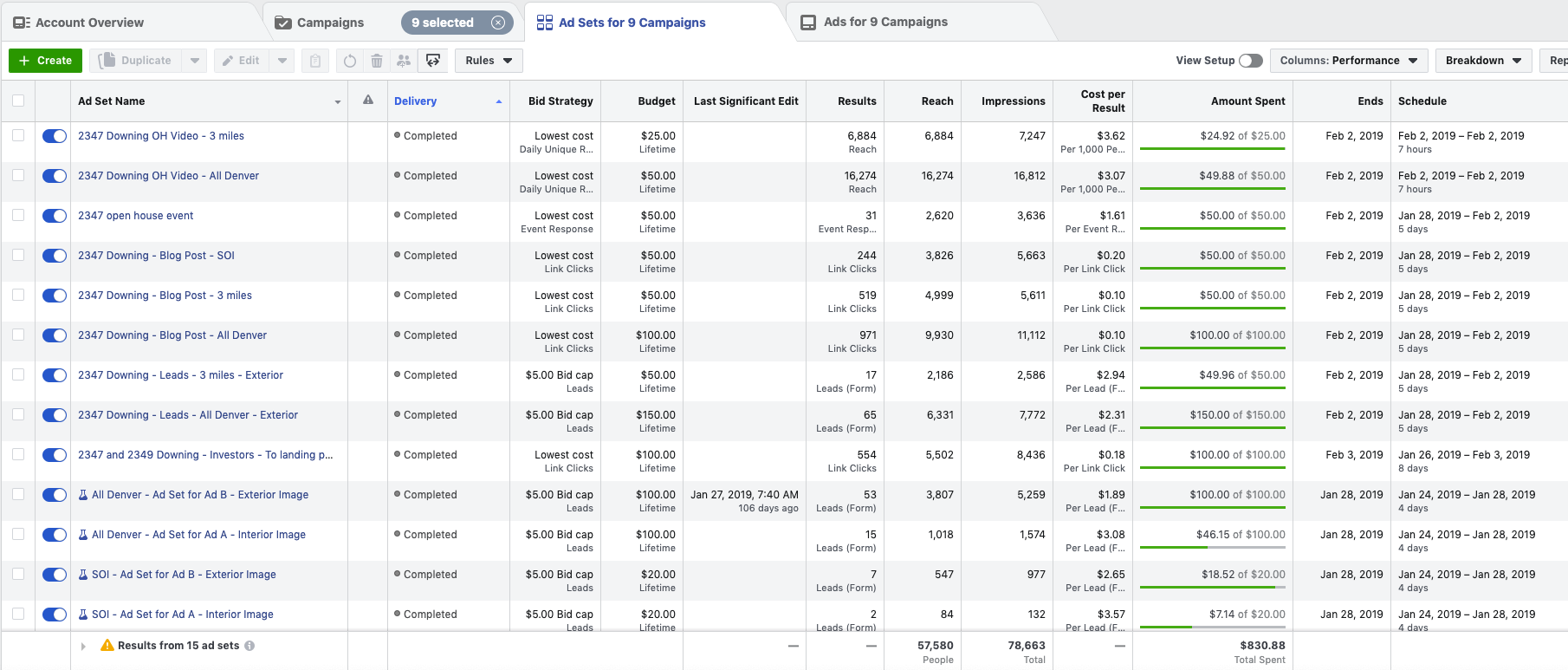 We've spent hundreds of hours figuring out the intricacies of these social media ads. Everything from the type of copy to use, to the right type of photo, age ranges, demographics, everything. And we have become experts at getting these ads in front of the right people.
By putting these ads out there, we're tapping into a group of people that are actively searching for a home. These buyers are now aware of your home more than a week before it hits the market, and they can get their ducks in a row if they need to get pre-approved through a lender or talk with their spouse to see if they're ready to make the jump. Your house is now on their radar. During this period, we tend to receive a few phone calls a day inquiring about the property.
And if you're in a hot sellers' market, this pre-listing marketing can pull out amazing offers. We've had a property not even make it on the market, because we received a cash offer with a 3 week close at 7% over asking price. While that result may not be typical, social media marketing always helps and is a necessary tool for a seller in today's market.
DAY 4: Thursday
Monitor Social Media campaigns and adjust where needed
This is the point where we closely monitor the results from current marketing efforts to make sure we are getting the desired results. A great benefit of digital marketing is the near instantaneous reporting. Within 24 hours of the Facebook and Instagram marketing, you can see how effective or ineffective your ads are.
Very few people understand digital advertising. Many who say they do, just "set and forget" their ads. A successful ad from a previous campaign, even a recent one, does not guarantee it'll be successful again. Today's marketing landscape is dynamic. You must constantly monitor the campaigns to make adjustments as needed. Since we're working in a tight time window, we monitor on a daily basis. If the results are good, then great. We still try improving them. If the results are not, then we adjust accordingly to improve the results.
A common technique for getting the best results is through split testing. This is where you run two ads that are almost identical, but have one difference between them. It could be a different photo, a different headline, a different website link, etc. We're constantly split testing advertisements for two reasons:
1. It helps with getting more eyeballs on your listings.
2. In the big picture, as agents, as we split test across every listing, we learn a lot. We get better after every ad campaign and the collective experience and knowledge builds and can be used on the next listing, and the next and so on. Which helps your listing get the maximum exposure.
DAY 5: Friday
Pick up $50 gift card from local business
Another unique thing we do is we buy a $50 gift card from a local business to be given away to a lucky person that attends your open house. This is part of building awareness in the community. It's important that the gift card comes from a popular and highly-trafficked small business in the neighborhood of the home that's for sale.
Why do we look for a local business? We love small businesses in general…small nurseries, contractors, local service industry professionals, small retail shops etc…. For instance, we may go to a local florist and tell them, "Hey, we're going to have an open house next weekend two blocks from here, and we're going to be marketing this to anywhere from 5,000 to 20,000 people. We'd like to have a drawing to give away a $50 gift card from your store to someone who attends the open house that day."
Everybody likes local. Everybody likes supporting small businesses. In exchange for buying the gift card and giving it out to a winner at the open house, we ask the shop owner if we can leave open house flyers there. This is great cross-marketing, and it's a win-win for everybody.
DAY 6: Saturday
Create map for open house signs and local distribution area for door hangars
Open House sign placement is another cog in this giant marketing wheel. When mapping out where open house signs will be placed the morning of the open house, we choose locations to ensure the most drive by traffic. We place a minimum of 8 signs directing traffic to the open house in the most opportunistic locations. This is great for bringing people to the open house the old fashioned way.
On a side note, our brokerage firm has about 700 agents. It's amazing how often on Friday afternoons we hear, "Hey, does anyone want to do an open house for my listing this weekend on Saturday or Sunday?" That question is being asked 12 hours before the open house is supposed to start. This way of doing an open house is not a strategy to help sell a house in our opinion. This is a tactic to get "buyer leads" for agents. This is not how we do it.
We have a number of friends who have been agents for 20 plus years. The thing we always hear that bugs the crap out of us is, "Open houses don't sell houses. Open houses are solely to generate leads for new agents." We have talked to very successful brokerage teams that have 10, 15, 20 people, and they always send their new agents to open houses. That's garbage! You hire an agent to sell your house. If you hire us to sell your house, we are going to be there at your open house to sell your damn house. Enough about what bugs us. Let's get back to the marketing plan.
We use Google Maps to view the cross streets and create a custom map detailing exactly where the open house signs should be placed and where the door hangars should be distributed. This makes the sign placement task the morning of the open house fast and easy, but it also ensures we don't lose a sign and forget where we put it once the open house is over. We lost an open house sign once upon a time. That's how the map started, because we forgot where the heck it was. We couldn't even blame someone for stealing it. We simply forgot where we put it, so we started drawing a map.
However, it's not just about making sure we can find the open house signs at the end of the day. Strategic placement of signs maximizes eyeballs that see it and helps drivers easily follow those signs to go from the main street, to the neighborhood, to side street, and finally to the house.
You also have to plan out how many signs you need. Do you need 8 signs? Do you need 16 signs? Do you need 24? How are people going to be finding you? You want buyers to be able to find your house easily from all the surrounding main streets and have them guided to your open house without getting lost. Put yourself in the buyers' shoes. What do they do on the weekends then they are house hunting? Drive around and check out open houses! A good chunk of your open house traffic is people driving through the neighborhood on the weekend. Your house must be signed properly to effectively capture these buyers. Have you ever been driving around, notice an open house sign, but can't make the turn? We have! That's a classic example of poor planning. A lot of people don't turn around. It's too much work.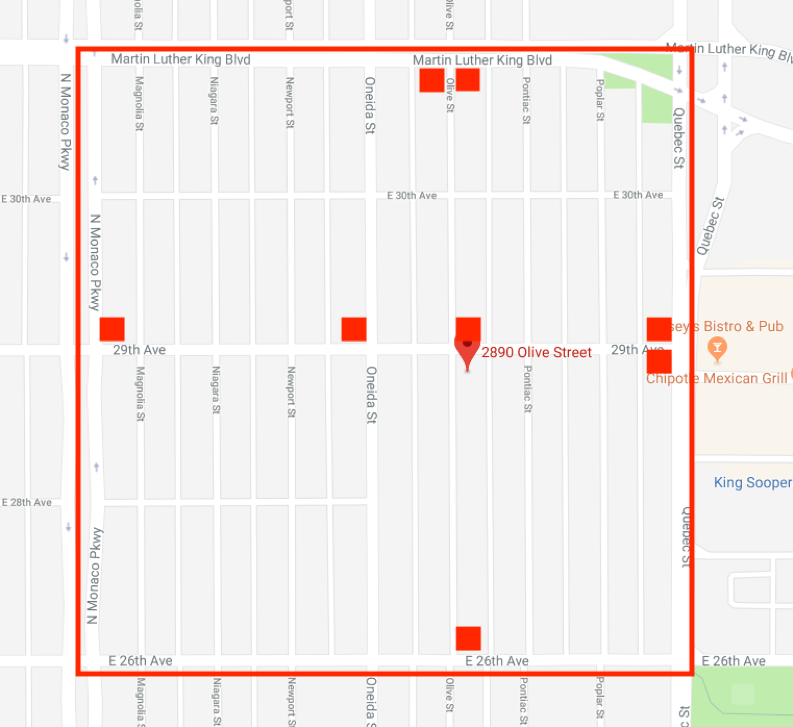 On the Google Map above, the big red box you're seeing is where we would hand out door hangers. The smaller red squares show where we would place the open house signs to maximize directional traffic. This particular map shows an open house that isn't too far off of a busy street. But if your house is in the middle of a neighborhood, you have to plan sign placement strategically to clearly lead buyers to your home. The harder it is for people to find your open house, the more likely they are to turn around and go to the next open house. Good sign placement helps bring more people to your open house.
DAY 8: Monday
Advertise open house everywhere
Begin Phase 2 of Social Media Campaign
Advertise upcoming open house on local radio show
ADVERTISE OPEN HOUSE EVERYWHERE
The next step on the marketing plan is to advertise this coming weekend's open house. We want to put your address out there EVERYWHERE! One of the reasons for that is if someone Googles your address, we want there to be a good chance that an ad comes up stating it's for sale.
Brokers are now going to start seeing your house as a "coming soon" and start to give their clients a heads up that they have access to an "off-market" deal. This is more incredible exposure! We use various online sites including Craigslist, Zillow, Trulia, Backpage, Facebook, Instagram etc. We also share it on the "Whiteboard" at our brokerage firm to advertise it to other agents. The "Whiteboard" is not a physical whiteboard. Rather, it's a daily email digest that is sent out to every agent at our brokerage. Since there are over 700+ agents, it's another great promotional tool.
This step is combined with phase two of our social media campaign where we continue the advertising blitz by telling other agents about the open house. It is more of a true "Coming soon" letting people know that your house is going live on the market. We're going to let everybody know now, including real estate agents. Phase one is definitely more geared towards buyers in particular. This can include buyers that don't have a buyer's agent but are interested in your home and looking in your neighborhood. Phase two is more about everybody including real estate agents that work with buyers.
BEGIN PHASE 2 OF SOCIAL MEDIA CAMPAIGN
Phase 2 is where we go on social media and share it with about 10 Facebook groups. We start sharing the virtual tour and let everyone know about the open house coming up this weekend. Buyers can take a look at the photos and check out the house virtually before the actual open house.
This stage is also a little more engaging. We typically have a lot more agent engagement than we do strict buyers' engagement, because our sphere of influence is heavily real estate agents. Those real estate agents typically have a handful of buyers at every price point. This stage is usually when we will get more phone calls from buyers' agents than we will from family, friends, neighbors, or buyers directly.
Phase one is more of an ad to get in front of people who may not know us personally. Phase two is more of a sphere of influence blitz. These posts are also turned into ads to increase eyeballs on them. It lets everyone know that your house is coming soon and that we have an open house this weekend.
In summary, Phase 2 of the Social Media Campaign is characterized by the following:
Geared toward everyone (agents included)
Mega Open House event advertised on Zillow, Trulia, Craigslist
Mega Open House event shared on 10 real estate groups on Facebook
Mega Open House Event created and advertised on Facebook
Mega Open House Event created and advertised on Instagram
Listing shared with 1000's of websites, local, regional and international
ADVERSTISE UPCOMING OPEN HOUSE ON LOCAL RADIO SHOW
We have relationships with a large number of agents and mortgage lenders in Denver. One of them does a radio show that broadcasts on Saturday mornings. This is another way to get in front of another set of, or in this case, ears to let as many people as we can know we're having an open house this weekend and to come on by and check it out.
The host records the show on Tuesday morning. We give them the information on your house the day before, but then they broadcast live on Saturday morning at 10:00 AM.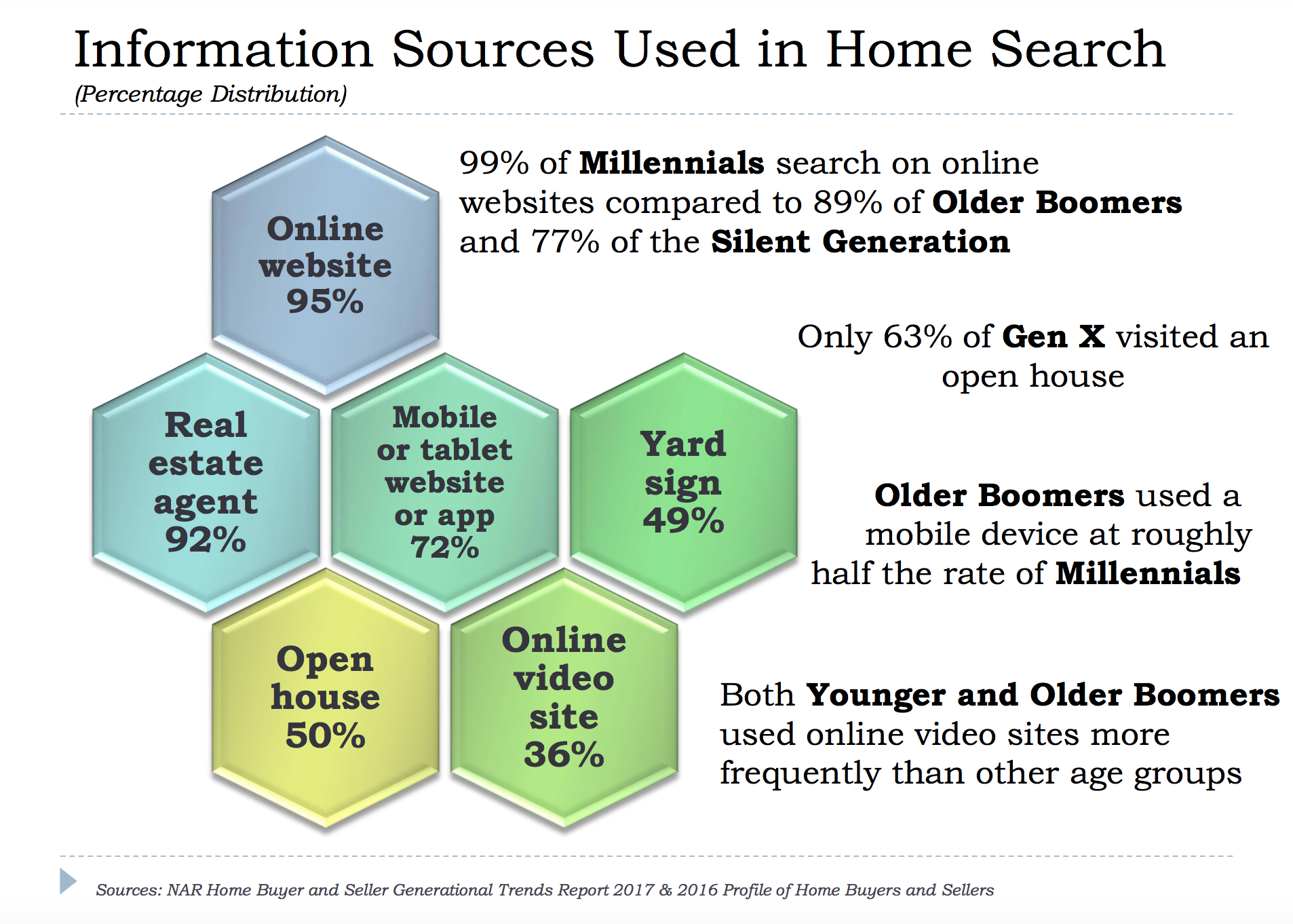 DAY 9: Tuesday
Upload house into MLS (but do not take live yet)
Email coming soon announcement with brokerage firm
Fielding calls from interested buyers' agents
UPLOAD HOUSE INTO MLS (BUT DO NOT TAKE LIVE YET)
We get your listing ready and input it into the MLS, but we do not take it live yet. This lets you preview it and make adjustments until we get it perfect. In case the day we go live gets busy, we are not rushing to throw-up a half-assed MLS listing. Rather we can just hit "go live." Planning and timing are key to successfully selling your house!
EMAIL COMING SOON ANNOUNCEMENT WITH BROKERAGE FIRM
The next step is to do a coming soon email announcement with our brokerage firm. Our firm has over 700 agents who receive a daily digest via email. Agents add items that are of interest to other agents which includes coming soon houses and open houses. The email is sent every morning to 700+ agents' private email addresses and posted on the private internal Facebook page for our brokerage firm. We have personal relationships with many of these agents which is a nice cherry on top.
To summarize, we've been on social media. We have print media going. We're coming soon on the radio. Now, we're in the email inbox of 700+ agents.
FIELDING CALLS FROM INTERESTED BUYERS' AGENTS
On DAY 9 we are still four days out from the open house. However, we are likely receiving calls from buyers' agents due to our pre-listing marketing efforts. Agents who typically ask good questions which indicate their buyers are serious. They may ask, "What do you think it's going to go for? When are you starting showings? When are you going to be reviewing offers in case you get multiples?" These are the golden questions that we love to hear. They're the buying questions.
The agents want to get as much information from us as possible, because they're trying to do the very best job they can for their buyers. This is when the relationships begin to build between the buyers' agents and us. This is where buyers' agents can separate themselves and let themselves be known, so if they do submit an offer, we know it which is better than just a blind offer coming in from an unknown agent we've never talked to before. This makes an absolute difference. Relationships and good communication makes a difference for both sides. It's helped both as a buyer's agent and listing agent. It's often overlooked trait, that does make a difference.
To give an example, we had a listing for a duplex with 2 separate units that were being sold. Our seller ended up selling each unit for $265,000 when we actually had offers on both units for $275,000. Our seller decided to accept offers $10,000 below the highest offers, so, $20,000 less in total. That's a good chunk of money, but the $265,000 offers were stronger, and the agents had better communication overall.
There's a lot to consider when you're a seller and evaluating the strength of an offer. Is it conventional, cash, FHA, VA? They all carry a different stigma, and it's important how buyers' agents portray and communicate their offers to make them favorable. When it comes down to it, if we have two numbers exactly the same, let's say they are both $265,000, consideration is given to ease and amount of communication with the buyer's agent. Have they been following up with us? Have they not been a pain in the butt? Have they told us the motivation of the buyer? How much information have they given us to let us know their buyer is serious and qualified? Is the competing offer just a number that was thrown into the ring without anything more than a signature?
At this point, buyers' agents may try to get in early to tour the house before the open house. This can be to their advantage. We've definitely been the buyer's agent on this side where we know the house is about to hit the market as an open house. We will do everything we can to get our buyers in the house early. This gives our buyer an advantage, because we're starting our communication with the seller's agent early and staying in touch throughout the days leading up to the open house. Sellers' agents want to work with buyers' agents who are good communicators.
If we receive a request to tour the house before the scheduled open house, we talk with our seller. It's their house and their decision, not ours. When we review and sign the listing agreement, we layout the marketing plan and what happens in these situations. If the house isn't show-ready, a seller may not want buyers taken through the house. We've had experiences with this in the flipping world. We've done that in the past where we let buyers peek in early before the last punch list items were complete. It's not always the best choice, because people cannot look past those little imperfections.
So, going back to the question of whether or not to allow buyers into the house before the weekend of the open house. Another consideration is the traffic we hope to generate at the open house. If we let buyers in the house early, that takes away from the amount of people who actually attend the open house and the sense of scarcity and urgency that sheer numbers create in the buyers that do attend the open house.
That's typically the way it is, because the goal is to drive as many people as possible to the open house. We know it can be frustrating for a buyer, but we're going to do the best job we can for our seller. The more people we can drive to the house in a shorter window of time, the higher the likelihood of ultimately bringing in strong offers.
DAY 10: Wednesday
Take listing live on MLS in the evening at 5:00pm
Up until now, all of the marketing has been "pre-marketing" or marketing that is done without being on the MLS, the database where all agents and buyers search for houses that are for sale. Today is the day we're going to take your house "live" on the MLS, but we still will not schedule showings until Friday evening at the earliest.
We take your house live on Wednesday evening, because we've found this produces the best results. Everyone looking for a house through an agent is set up on an auto search that will send them an email Thursday morning alerting them to houses that fall within their search parameters. We want your house in every potential buyers' inbox on Thursday morning, so they have time to talk to their significant other and prepare themselves. When they have time to share it with their significant other, they can have a conversation about it knowing they have a day or two to think about it and present their strongest offer.
If you're a buyer in Denver and the inventory is low, there's this feeling of, "Shoot! This thing is live. When did it go live? Oh my God, they're doing showings already. Holy crap! We are probably too late." By delaying the start of showings, we're giving buyers a little bit of time to think about it, look at the pictures a hundred different times, and be more emotionally caught up and emotionally involved in your house. Waiting a little bit tends to generate stronger, better, more motivated buyers.
We've also found that it's beneficial to go live on the MLS but still not schedule showings for a couple days, because it allows us to produce a "bottlenecking" effect. Anyone who is interested in your house will most likely request a showing as early as possible, but we will delay showings until Friday evening or first thing Saturday morning. We try to schedule showings so that there will be multiple buyers at your house at the same time. This creates a buzz and a sense of urgency among them. If there are multiple people looking at your house at once, a greater sense of competition is created which leads to stronger offers. This benefits you, the seller.
DAY 11: Thursday
Pass out open house door hangers
Place open house flyers at local shop
Record open house video
PASS OUT OPEN HOUSE DOOR HANGERS
Door hangers attract neighbors, and we want as many people as possible to attend the open house in order to create a sense of buying urgency. Serious buyers don't know that the person touring your house at the same time they are is a neighbor. Advertising a chance to win a $50 gift card to a local business by registering at the open house attracts even more people. We want there to be lots of people at the open house whether it's neighbors or potential buyers.
We typically print 500 door hangers which takes 8 to 12 hours to distribute in your neighborhood. We use the map we created on DAY 6 to determine the best area for canvasing and passing them out. We usually recruit team members to help us with this, so we can devote our time to addressing emails and calls from interested buyers' agents. Having a predetermined plan and following it allows us to launch your house on the market in a way that produces the highest and strongest offers for you. We prepare, plan and implement, so we don't have to scramble at the last minute. We could get a phone call at any time from a serious buyer that demands our immediate attention, and we need to be available to field those calls and respond appropriately.
PLACE OPEN HOUSE FLYERS AT LOCAL SHOP
On Thursday we also place open house flyers at the local shop where we purchased the $50 gift card. This is another small but important step in the marketing blitz to build awareness. It's all about bringing more people to your open house. It's important to note that we are also advertising for the small business in every ad we run on social media and on the door hangers. The local shops get lots of exposure and they don't have to do a thing!
RECORD OPEN HOUSE VIDEO
The open house video we create today is a simple one to two minute walkthrough of your house that we record with an iPhone as if we are live at the open house Saturday morning. This is an invitation to anybody who sees it to come by the open house. We usually say something like, "Hey, we're at this address. We're live today with an open house from 11:00 to 2:00. Come on by, and you'll be entered in a raffle to win a $50 gift card to this awesome local business. If you're not familiar with this neighborhood, you should come check it out. The XYZ school is down the street. There's a park around the corner. The house itself is 3-bedroom, 2-bath and listed at $385,000 which is an amazing opportunity."
The open house video is a quick run through. It isn't a boring, "Here's the bathroom. Here's the bedroom." Everyone can see for themselves what the rooms look like by clicking on the virtual tour. We use the open house video to tell a story, lend color and create a sense of emotional involvement. This can pull in buyers who are on the fence.
By recording it on Thursday, it gives us time to edit the video and make sure it gets approved so it posts on Saturday morning at 8:30 or 9:00. It is then broadcasted out to two different target audiences. One is directly to all the neighbors within a one or two mile radius to get as much local attention as possible. The second is targeted to all potential buyers around the Denver area. Even though the house may be in South Denver, that doesn't mean that a buyer up north in Thornton or Boulder isn't going to be interested in moving to South Denver.
Another point we'd like to make here is that social media advertising is constantly evolving. What works today may not work as well next month. We pride ourselves on staying on top of the trends and ahead of the curve when it comes to how to most effectively use social media to market your house.
DAY 12: Friday
Set up for open house
Open house checklist
Start showings at 5:00pm
SET UP FOR OPEN HOUSE
Selling a house is an event and should be treated as such. Taking the time to properly prepare for an open house is hugely important and often overlooked by most agents. We view every open house as an awesome opportunity for us to maximize the appeal of your house to buyers. Our job is to do everything we can to convince potential buyers that your house is worth as much if not more than its listing price which in Denver could be in the $300,000 to $500,000 range. That means attention is paid to the smallest detail, and everything is set up before the open house starts.
Part of this attention to detail is baking cookies in the house that morning which we do ourselves to fill the home with the amazing aroma. We set out raspberry lemonade, because it looks better than plain lemonade in a glass jar. All these little touches that might seem insignificant really do make a difference in our opinion.
We've all been to open houses where someone is just sitting on a chair with no engagement. That's not only boring, but it doesn't help you sell your house. We're not the type of agents that go up to every single person at an open house and ask them a hundred questions. However, we will ask them how they heard about the open house, because we want to know what marketing strategies worked. We won't follow them around and hound them, but we will let them know that we're happy to answer any questions they may have.
We also bring in items that allow us to strike up conversations with buyers. These "talking points" include a large Price Change Map that shows how many houses have sold in the past 12 months and the average price along with how prices have changed over that period. This map is a large 2-feet by 3-feet poster that our brokerage publishes which can show either all of Denver or can drill down into a specific neighborhood. It details the year-over-year price change and color codes it with green, yellow or red, so it's visually easier to interpret. Not everyone understands what it is at first glance, but they do stop to look at it to see what it says about the neighborhood in which they currently live. People get sucked into it, and it's a great conversation starter.
The information at an open house can be a game changer for potential buyers. Showing people that we understand the market and have data to back it up gets people engaged and interested in asking questions about the neighborhood and the house. Oftentimes people wanting to make an offer will point blank ask what we think the home will sell for, not just what it's listed for. That is a valuable conversation to have!
Taking time to properly set up for an open house event is what good agents do. We make everything look and smell wonderful and find ways to strike up conversations. Having engaging pieces about the neighborhood, the local real estate market, and flyers advertising the raffle for the $50 gift card all give us opportunities to talk with people, because you never know who your buyer is going to be. All of this is just part of doing our job in our opinion.
OPEN HOUSE CHECKLIST
This is an event, and we treat it like it is. We use the following checklist to make sure we don't forget anything. Everything has a purpose, and a reason. Everything in this checklist is to help engage the people coming through the open house and get them to ask questions. The more questions they ask, the better. Remember, LUCK, is when preparation and opportunity meet. And you better believe we're prepared!
Print Marketing Needed
Flyers for Listing
Big price change map
Buyer and Seller packets
Sign in Sheets
Map of Open house sign placement
Gift Card plaque
Misc. Items Needed for Open House
Bluetooth speaker
Tablet w/music and av cord
Sign in Table
Big Open house flags
Gift card
Stand for big Price Change map
Board for price change map
Plaque stand for Gift Card
Cookies
Cookie sheet
Hot pads
Spatula
Napkins
Cups
Paper towels
Juice (lemonade with raspberries)
Water
Pens
Garbage Can and bags
 START SHOWINGS AT 5PM
Now is when the hard work starts paying off! Showings start tonight at 5:00pm. Being at your house and available at this critical time allows us to educate any buyers and agents about the house, but it also gives us the opportunity to find out about the quality and motivation of each buyer.
During this time we also answer all phone calls and stay on top of interested buyers. It's amazing how many listing agents don't answer their phone when selling a house. Sometimes they're truly busy, but others leave a message on their voicemail stating that you should email them. This is a disservice to you, the seller, in our opinion. Answering the phone is part of the duties of an agent. It communicates that you are doing your job as a listing agent and in turn the house will receive more offers. Frequent and effective communication within this short window of time results in stronger, better offers.